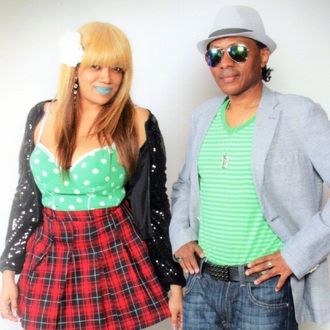 BIO
SWEETIE & I'MAN
Sweetie Tamford and I'man are singers-songwriters in New York City. Sweetie has been singing and writing songs since 2005. Sweetie was inspired by Whitney Houston, and her voice was has been compared to Tina Turner and Amy Winehouse, with her own personal flavor. Sweetie songwriting skills are creative and versatile
that enables her to write different genre of music. Sweetie Tamford earned a bachelor of science Degree from a NYC college and worked for several years before venturing into the music industry. Sweetie is fashion conscious with her own unique style that complement her music. Sweetie states that she would love to one day collaborate with singer Rihanna. Sweetie Tamford was exposed to different types of music at an early age. As a result, this diverse in music has influenced her creative songwriting skills in terms of not limiting
her music to any one particular genre. Sweetie labels her music as "Alternative, including Rock, Pop and Reggae. I'man Iron has been singing and writing songs since 2000, and took a "long" hiatus from his music and focus on his education. In 2012, I'man returned to his passion "songwriting," vocalist and playing guitars.
I'man Iron like Sweetie Tamford, has his own unique singing style that is smooth, cool and compelling. I'man
considered himself a versatile musician who is able to reach a diverse audience of music lovers from Pop, Rock, Reggae, R&B, Neo soul among others. Some of I'man music influences include Bob Marley. Stevie Wonder, Maxi Priest, James Ingram, Michael Jackson and Maxwell. In 2014 Sweetie Tamford collaborated with an equally and talented singer-songwriter I'man Iron. Working with I'man proved to be productive. As a result, Sweetie Tamford and I'man Iron decided to work together as a duet "Sweetie & I'man" affectionately embraced Fan in the United States and and international. Sweetie & I'man continued promoting their single "No More Lies, EP-Glow and now available new album "Here We Go." Originality and uniqueness make Sweetie & I'man "stands out in a crowd." Sweetie loves to entertain, and states that "I could see myself doing anything else my music." I'man believes "when two creative minds work well together greatness can be achieved."